NEWSLETTER No. 8 - June 25, 2007
Dear Author,
The Organizing Committee of ICEE 2007 asks me to call your special attention to the following:
DEADLINE FOR EARLY REGISTRATION.

The deadline for early registration has been extended until June 30. After that date, the registration fee goes up from EUR 490.00 to EUR 580.00. The payment of registration by everyone except Portuguese participants is managed by INEER (ineer@ineer.org), who issues the corresponding acknowledgements and receipts.


HOTEL RESERVATION

. Hotel Reservation is managed by the Travel Agency (malmeida.lisboa@abreu.pt), who also issues the confirmations of hotel reservation.


TRANSFER OF COPYRIGHT AGREEMENT

. The Transfer of Copyright Agreements for papers to be included in the Proceedings must be RECEIVED by June 30. As the manufacture of the CDs must start on Monday, it will be physically impossible to add any papers after that date.
If you have any difficulties, please contact:
INEER

(ineer@ineer.org) for the registration (and confirmations of registration, and receipts) of non-Portuguese participants.

The Travel Agency (malmeida.lisboa@abreu.pt) for anything to do with accommodation.

The Secretariat of ICEE 2007 for (icee07@dei.uc.pt or icee2007@ei.uc.pt; fax:

+351.239.798.703

) for the reception of Copyright Agreements and issues relating to Visas.
As the Program Committee is unable to respond to any of the above questions, PLEASE DO NOT REPLY TO THIS MESSAGE.
We look forward to meeting you in Coimbra, in September.
Yours sincerely
Antonio Dias de Figueiredo
Program Committee Chair
- back to the newsletter listing
<![if !vml]>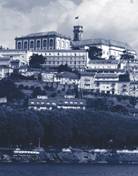 <![endif]>
<![if !vml]>

<![endif]>